We all expected that this Coronavirus will surely be ended in the month end of April 2020 but it is not going to happen for sure and the bad news is the situation is going more critical for the people. How? Research shows that there were more than 3 million COVID-19 cases in the world. This Coronavirus has taken the lives of people not only of two-three countries but the whole world also is under this Coronavirus and not sure when this critical situation is going to end forever. Doctors of every country are giving their best but day by day they are getting enormous cases of Coronavirus in their country. Let us tell you the current situation of India regarding Coronavirus as there were around 28,118 cases and if we talk about the Death cases then 886 were dead. You can't say that very well developed countries are moving freely. This Coronavirus has ruined the whole world and has taken the lives of an abundance of people. Countries are doing their best to stay safe and keep everyone safe but nevertheless, Coronavirus is living there and don't know when it will leave.
Big events are cancelled just because of Coronavirus
South Africa, New Zealand, Italy, India, and many more have implemented the lockdown process which is absolutely a good decision to save each person who is living in their country. So, if such a situation is going on then how can you expect a big event anywhere? Spain's national game is Bull Fighting and it was happening in the month of July this year but due to Coronavirus, they called off.
Not only Spain, If we talk about the United States then let us tell you that they cancelled the national spelling bee event which was going to happen in June month. And, Germany called off their event of Oktoberfest which was going to happen in the October month. They believe that to bring back the normal days and remove this Coronavirus is a long process.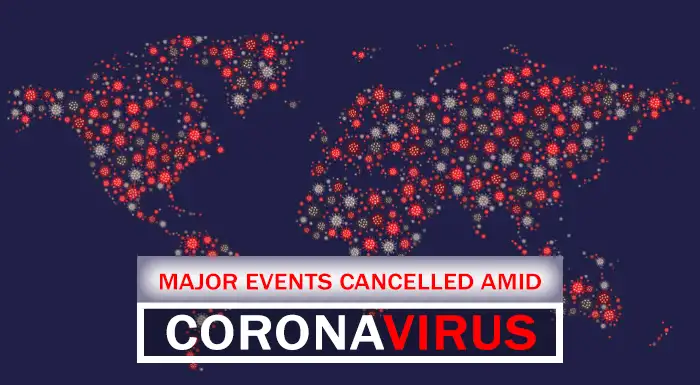 This is about the event cancellation now if we talked about the market and economy situation then let's understand what is happening everywhere. You all have read out all the time, these days the economic damage is happening as oil prices suffer big collapses and the stock's shares in the market suffer from epic loss every week. Not only a single country has to suffer from this but also the whole world who are under this Coronavirus problem.
Cases are rising up every day in USA & India
The United States is a well-known name whose business is in everywhere around the world. But what situation are they facing in today's time? Any idea? Everyday thousands of people die and of course, every business is down or you can say totally dead. You can't say the airline business is going normally let us inform you that Air Canada has suspended its flights from the US for a month. They can also expand this decision no doubt. They said, "Air Canada plans to resume service to the U.S. May 22, subject to any further government restriction beyond that date".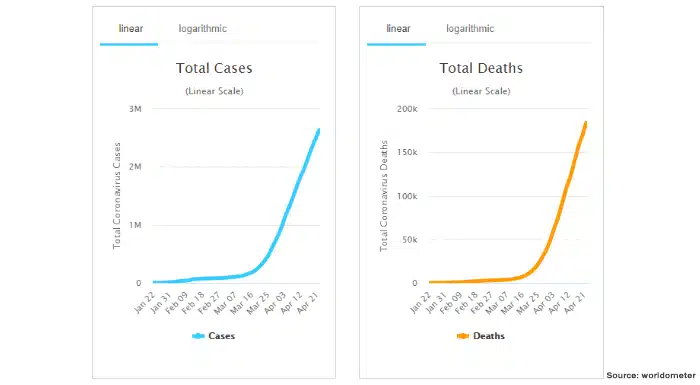 Moreover, the Border has been closed but still, they are ready for the limited-service to 11 U.S. Airport. Now we would like to share what U.S. President Donald Trump has said. He said that he will stop issuing immigration green cards for sure just for the 60 days to limit competition for jobs. He promised that he will protect the American workers who are suffering from this economic disaster. The current death toll in the United States is 55,415. Who will you blame for this, the President who has implemented the lockdown decision too late?
US helped India recently in COVID-19
We would like to share a statement of Nisha Desai Biswal, who is the US India business council president, "So many businesses Indian and US are turning their tools towards specific needs that society has in beating back the pandemic. They are helping to bring all their resources towards this battle." If we talk about the country India it is the 16th country who has more than 25,000 COVID-19 cases. Shocking! Yeah, you already know the situation is too worse in Maharashtra or in Pune where the cases are rising every week of COVID-19.
After watching such kinds of situations, Our Union Government promulgated an ordinance and it is just to keep the healthcare worker in a safe zone. It amends the Epidemic Disease Act, 1897. This stringent law is a good decision as if injuring the healthcare worker then a fine of Rs 1 lakh to Rs 5 Lakh. And also accused can be sentenced from anywhere between 6 months to 7 years.
Now if you want to know how the United States is helping India then let us share that their companies like UBER, Google, and also IBM are helping them a lot just by sharing their resources with us. What are those resources? The resources were like a free digital education platform, donating numerous face masks, boosting up ventilator production and much more. The best part is Google has partnered with the Prime Minister's office and that is to facilitate the contribution to the PM Cares Fund. Well, we can't say on which month/year the Coronavirus is going to end but hats off to every country who are giving their best to save their nation to save their people who are living peacefully earlier. We all have to fight with COVID-19 and just hope for the positive results. Stay home Stay safe!