From the beginning of the day till the end, everyone is reading out a name called "Coronavirus" which has taken the lives of people and ruined the whole world. Might be shocking for most you but the fact is every country has become victim of this Coronavirus which is unstoppable and outbreak globally. Even the World Health Organization(WHO) has declared it "a pandemic" that spreads easily and causes illness starting from common cold to severe disease. Nobody should take this situation lightly as many are suffering from it and many have died. Let us aware you all with the actual fact just read out the points given below-
More than 3 lakh cases have been confirmed.
If we talk about death, around 10000 are recorded.
There are 170 countries that have been impacted.
Recovering cases from symptoms are 82,880.
On 11th March 2020, WHO defined the spread of Coronavirus COVID-19 as global "Pandemic".
Never expected such a situation will happen where people have to sit inside their homes and work from home only to stay safe. The entry of Coronavirus has ruined everyone and their businesses too. You already know that it started in China last year in the month of December and now every country is facing Coronavirus damage.
COVID- 19 countries death rate confirmed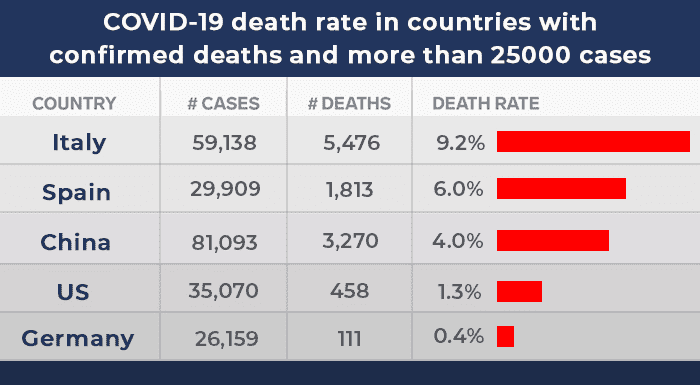 How has this Coronavirus affected the country China?
China failed to stop this and suffered from a huge loss in business. We researched and got to know that airline revenue has suffered from the loss of $29 billion and China auto sales down by 92%. They already said that business will not go on as usual. Every industry in China is in huge loss where they faced a downfall every day. Shocking!
This Coronavirus disease spoiled the starting months of 2020 in China, we don't know what will happen in the coming months. Want to know the market condition? Of course, the market condition has become volatile as Oil and Gas prices are cut-down.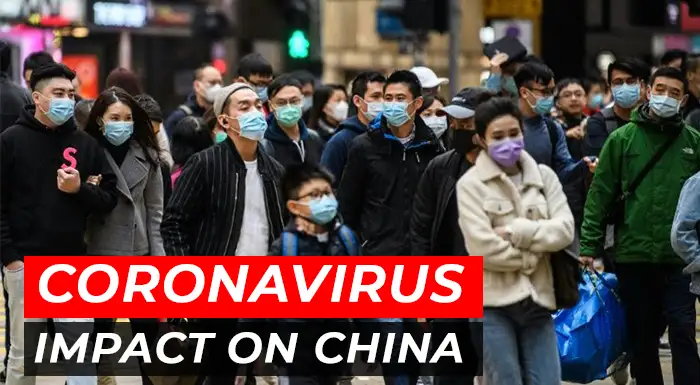 You all have heard the name "Qantas Airline" as they said that just because of Coronavirus, the profit has been reduced for the fiscal year by $66 million to $99 million. Furthermore, Air France- KLM has expected to earn $216 million this year. Now, do you think that this Coronavirus will be removed and the Airline's expectation will be fulfilled?
We have read out the changes Airlines companies have made as we got to know that the city of China: Wuhan, 20 international flights have been restricted there. Bad time going on and even we can tell you about the Singapore Airlines as they temporarily cut down the flights for the cities and those were: New York, Paris, London, Tokyo, Sydney and Seoul. You can imagine how much loss they have to suffer from. A big loss just because of Coronavirus which has totally affected everyone's lives.
How are Businesses suffering from huge losses just because of Coronavirus?
It is spreading worldwide and people are not able to work, so it is obvious that companies will meet up with huge losses and even you can expect that companies can shut down their business soon, not a big deal.
Companies like Mastercard, United Airlines, Microsoft and Apple are in big trouble as this virus has affected them as they got affected business sentiment and customer behaviour. The company Microsoft said a few days back that the Coronavirus hampered the production of laptops and computers and also it cut its sales forecast.
You all know the work process of Mastercard so make sure to get aware about the fact that people are taking a few international trips now and in coming days, no one will take if the virus spreads more globally. Fear of virus everyone has, so how can someone travel alone or with their family.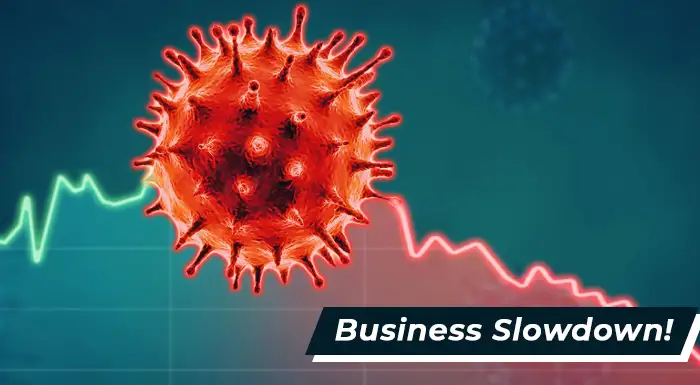 One more struggle the companies has to face and it is regarding the investors as they are not working to lend them money. Okay, so you have an idea of taking assistance of Banks? Let us tell you the Banks even tighten lending standards. You heard three largest US Banks: JP Morgan Chase, Citigroup and Bank of America all are down from tNow the Chief Executive of Playa Hotel, Bruce Wardinski said, "I am frustrated that, in my belief, the coronavirus may cause people to stop travelling, which may affect our 2020 results. The only solace i get when thinking about all these frustration is that they all have one thing in common: they are temporary".
his month.
We would like to share the statements as first John Stickland who is a London-based aviation consultant said, "We are seeing business slow down, conferences and events being cancelled and that has a bigger impact on premium traffic which is a critical source of revenue for many network airlines".
What is the current situation in India regarding Coronavirus issue?
Not only the countries like China and the United States, India too is facing this disease from February month end this year. It will be shocking for you but the fact is four coronavirus deaths have been confirmed. Regarding the Coronavirus disease, what India did? Have a look-
The country India has suspended e-visas issues to Nationals of Germany, Spain and France.
To stay aware of Coronavirus, Mizoram and Manipur have shut its border with Myanmar.
Mizoram shut its border with Bangladesh and also banned the entry of foreigners.
School, colleges, Shopping malls and Cinema will remain closed till 31st March 2020.
Government advised not to travel to countries like China, Italy, Iran, Germany, France and Spain.
Cases of Coronavirus virus are still active in India as in Kerala 5 cases regarding coronavirus a few days back whereas in Punjab we got to know that two-three Italians arrived there and the result is positive. The situation is worse in the state of Maharashtra where around 52 cases have been confirmed. This is the current situation as you can imagine now how this disease can create a big problem in the coming days or month. If talk about the business and economy then the situation is going the same as what you have read about China and the United States. Absolutely worse!
Conclusion
Situation is worse, totally disappointing and we are not only highlighting two or three countries. Whole world is the victim of this Coronavirus as everyday we just read out the cases of people suffering from this disease. Still, you need to stay safe and just avoid going to public places. Hope every company starts giving work from home to every employee because safety comes first. And if we talk about business conditions and the economy, we just hope that in the coming months it will start to boost up but it will be better only if this Coronavirus leaves the world. Right now just "Stay Safe" and don't take this Coronavirus lightly at all.