Using some profitable software in business can be irksome sometimes. Why? Let's take an example of the SuiteCRM system as many of you just started your venture in the market and have not a single idea about this software and its advantages. Of course, it can create a tough situation for you because you are not taking any guidance about it and if you have no guidance then we believe that you don't even know about this eminent software. Every day, every hour you can face difficulty because of no experience. Who can take you out from the ocean of problems and drop you to accurate ideas? Get in touch with the Outright Store who is providing SuiteCRM support service to every client globally.
How can our SuiteCRM Support team help you with your queries?
Businesses today need the support staff that not only paves the way for easy handling of the software but also gives you the right way to not meet the tough situation again. Outright Store has built-up their own support staff for your SuiteCRM software and solely they can handle the entire queries without any difficulty. Furthermore, many of you just want to get connected with the experienced one that made a well-versed team for your queries.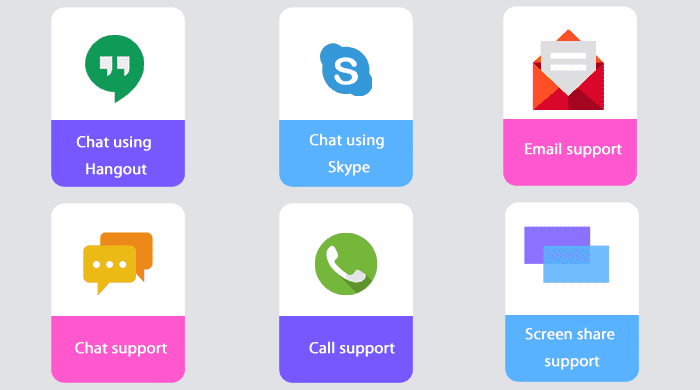 Agree with you because experience matters the most because you don't want to take a risk of sharing the queries with the amateur. We have a decade of experience in this activity where this CRM software is not so challenging for you. We are available 24/7 because we don't want clients to wait for long and move on to the next who offers the same service. Your business needs SuiteCRM Support staff because they have experienced so instead of searching for the solution via the internet, get in touch with our SuiteCRM Support staff to ease your efforts and get an incomparable experience.
Where can you share your numerous queries with us?
It's not like you just need to share one or two queries and then move on. Prepare a list of your queries to share with the support staff where they, later on, give you the right way to complete the task. When dealing with us, let us aware you where you can share your questions of SuiteCRM with us-
Email support
Chat using Skype
Chat using Hangout
Screen share support
Chat support
Call support
These are the most usable and perfect platforms where you share enormous queries with us and our SuiteCRM support team will get back to you swiftly. If you like to share your problems via email channel or do you think that chat support is perfect to get engaged with the team then go for it. Select whichever according to you is the easiest way to get an accurate solution.
What CRM Support plans we have and their pricing?
You are in need to get the support service then we are sure that your first requirement is to get the service on time. Admittedly, you need the service with good plans and their pricing should not be too high. We don't want your investment to be wasted. Therefore, Outright Store has its own CRM Support plans for your business. Outstanding support is much needed to minus your efforts and give you the most exceptional functionality that is ultimate for your work. Let's plunge below to know the name of those plans, features, and CRM Support plans pricing-
Bronze
This our first plan where we offer "Support hours Desk" from Monday to Friday 11:00 to 18:00 IST (7*5)
Here you will get an email response within 3 working days
If want to know about the database maintenance then you can go for 1 backup per day
In Bronze, there is only 1 instant meeting support on Google Meet, Skype, etc
We are also offering 5 hours of chat support on Skype, Google Hangout, WhatsApp, etc
There is no Development hours and no SSL Support
The server will reboot if there is a need for it
The price of the Bronze plan is $500/per month
Silver
Let us share the name important plan called Silver where we are offering "Support Hours desk" from Monday to Saturday 11:00 to 20:00 IST (9*6)
Here the Email response is within 3 working days
Using the Silver plan, you will get 3 backup per day and also database restoration
Get 3 instant meeting support via Google Meet, Skype, etc
9*6 Chat support is best for this plan via WhatsApp, Skype, etc
We are offering 5 free development hours but no SSL Support
For your Server maintenance- Server Reboot, Monitor Disk space, etc
The price of the Silver plan is $1000/per month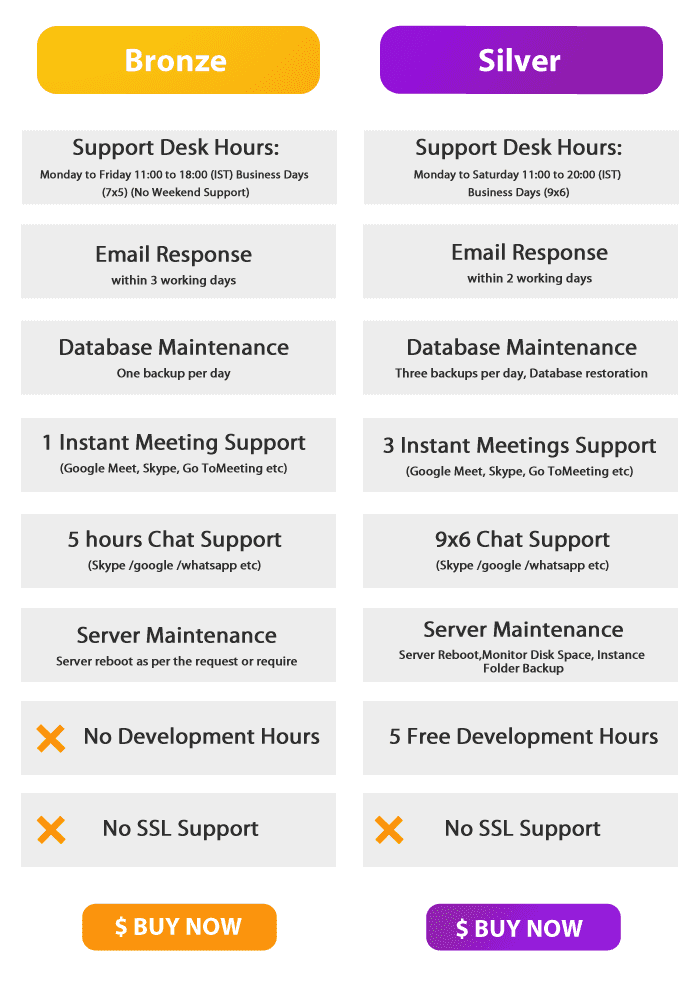 Gold
Invest your money in the Gold plan where we are offering "Support Hours Desk" from Monday to Saturday Business days (24*6)
The Email response is within 1 working days
For your backup maintenance, we offer custom backup per day, Database restoration, and more importantly, Database clean-up
You all will get 10 instant meeting support via Google Meet, Go To Meeting, Skype, etc
For the Gold plan, clients will get 24*6 Chat support on Skype, WhatsApp, etc
There is free SSL Support and also 15 Free development hours
You will get the Server maintenance: Server Reboot, Monitor Disk space, Monitor Serve load, Monitor Server Performance, etc
The price of the Gold plan is $2000/ per month
Platinum
The next CRM Support plan that we want to uncover is Platinum where the "Support Desk Hours" is of all days (24*7)
The Platinum plan Email response is within 4 hours
The Database maintenance features here you will get are- custom backup per day, Database restoration, and Database clean-up
Get unlimited Instant meeting support in a Platinum plan via Google Meet, Skype, etc
Also, we are going to offer unlimited Chat support via Google Hangout, Skype, and WhatsApp
Get Free SSL Support with 40 Free Development hours
You will get the Server maintenance: Server Reboot, Monitor Disk space, Monitor Serve load, Monitor Server Performance, etc
The price of the Platinum plan is $5000/per month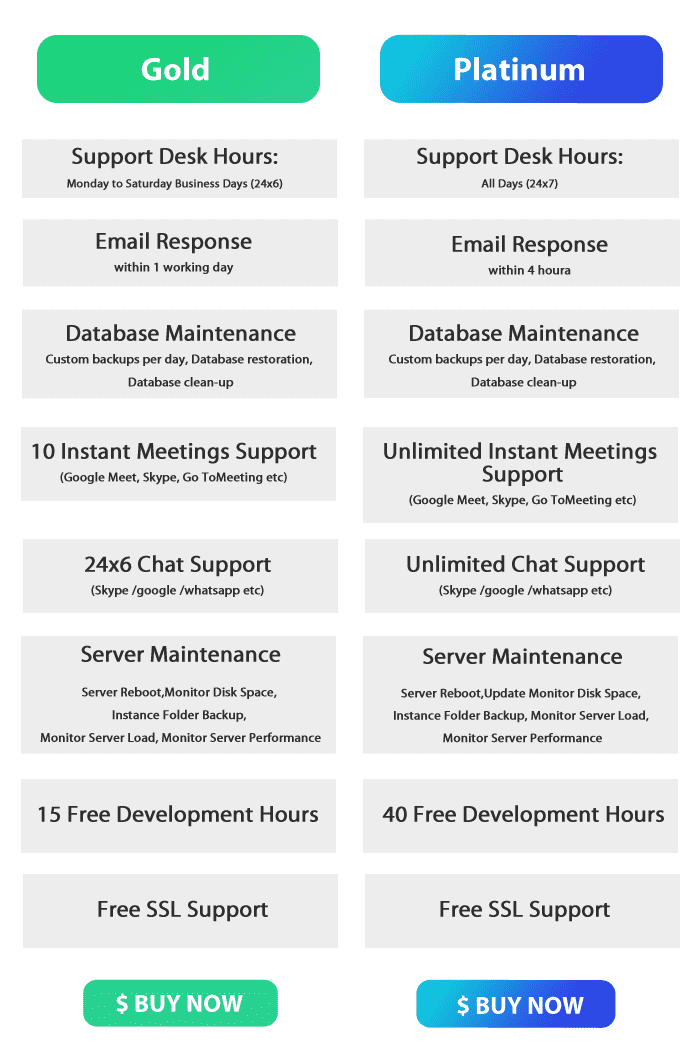 Closing words
Have you ever heard that Customer Relationship Management software also has open-source tools? Ask from the professionals and they all will suggest you strive for the SuiteCRM system which is best for business enhancement. Many novices in their business should go for this software for getting immense functionalities and get the task completed with no hassle. But a time can come where you are under a problem and you need to contact the SuiteCRM Support team to come with a reliable solution. Get in touch with the experience one and Outright Store should be on your list first. We offer the four most important plans and all these plans have absolutely amazing features to help you. The price you already know is given above. Choose the plan which according to you is right for your business activity and for more information, get in touch with us soon.