Email parsing is the process of searching and extracting specific data from an email using the software. This eliminates the need to scan data manually. There are many essential data in emails such as contact details, order numbers, invoice details, leads, etc which businesses have to find for their work.
The email contains much information about your customers, leads, partners and their orders, etc. Extracting data from emails manually is a very tedious task and takes a hefty amount of time. The challenge here is that emails are designed for humans, not for machines. Human language and machine language are different. It's very challenging for machines to read emails. But with the use of artificial intelligence and data science, it's easier to parse complex emails.
Uses of Email Parsing
Nowadays, the first point of contact is usually a website or social media. They either sign up for newsletters or free services. An email parsing tool can collect data and save it in the CRM system.
Create Quotes based on Customer Input
A customer or potential lead will fill out a form on the website providing their requirements. Email parsing tools can extract that information and automatically create quotes in CRM.
This is one of the best use cases of email parsing. Email to Case is way of automatically creating support cases whenever a customer sends an email to the support email address. It fetches name, email address, case query, and do much more.
Benefits of Email Parsing Software
Automation of some works– Workflow automation is the most crucial part of businesses today. Email parsing automates the extraction of useful data from emails and hence eliminates the need to do this manually. Email parsers extract useful data from emails and put them into your CRM system. You only have to select the required field of data you want to extract.
Reduce expenditure– Hiring employees for the extraction of data from emails will cost much more than email parsing software. As extracting data can be a very tedious task and will require a lot of time. Also, it will not be required for a single human to extract data from thousands of emails so many employees will be required for that. Email parsers eliminate the need for that and reduce cost.
Makes the process fast– The entire process becomes very fast and with minimum human interference.
Enhances the quality– The data that flows from the emails to your CRM system is very accurate. Hence most websites and e-commerce stores rely on email parsers for this purpose.
Best Email Parsing Software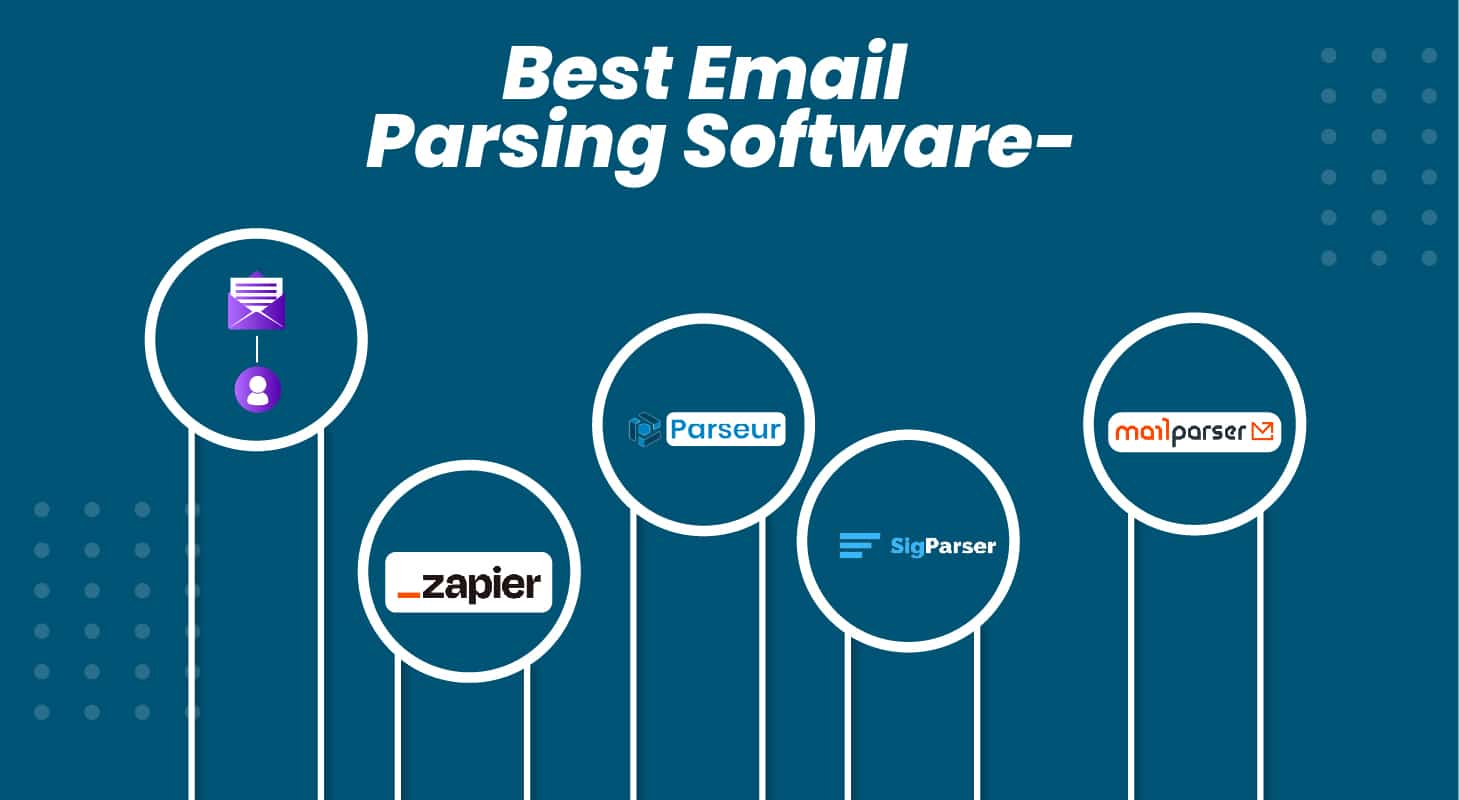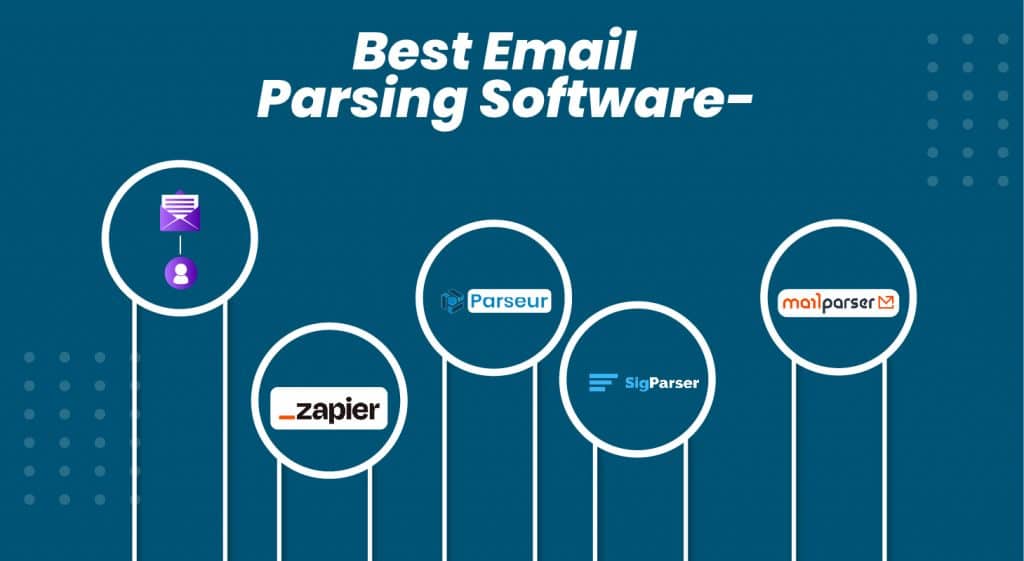 SuiteCRM Email to Anything
This is a plugin of SuiteCRM for parsing emails. Whenever a new email comes into your inbox this extension immediately takes the email and collects its sender, subject, and body, and parses data from it. After the data is parsed it is passed to the target module and checked for duplication. If it is a duplicate then it is updated and a new record or email is created and attached to the history. You can create and update records from any SuiteCRM module through Field Mapper.
You can even create multiple inbound email settings. It also has a spam keyword detector feature that allows you to disregard emails with spam keywords within them. SuiteCRM Email to Anything will create records only from the domains you choose. It has an assigned-to-user option through which all the records will be automatically sent to the appropriate contacts. There is also an option to not assign records to any contact.
Its price is $699 which a one-time payment and for unlimited number of users.
SigParser
It is one of the leading email parsing services. It is used for scraping emails and attachments and then extracting useful data and email signatures from them. SigParser is a private cloud-based email parsing service managed by AWS where you can store your data on the private cloud. It is highly secured. Apart from email parsing it also provides an insight into the everyday work of your employees. It follows the GDPR compliance completely. It's available for different paid subscriptions.
Zapier Email Parser
It is one of the leading email parsers. It parses emails and then sends the data to the spreadsheet apps. There is a dashboard provided from where you can access your data. You can even set up multiple mailboxes here. It is free of cost if you have other paid plans for Zapier.
Parseur
It is one of the best options for beginners as it has features for creating templates and data extraction from attachments. The template creation option has point-and-click template creation. It has a feature of automatic layout detection that detects template type automatically without setting template routing rules. Parseur has built-in parsing templates for Google alerts, real estate leads, food alerts, etc. It can integrate with other applications like Google Calendar, Slack, Notion, etc. It is available on different paid subscriptions.
Mailparser
It is one of the leading email parsing software. Mailparser can transfer the parsed data to many business applications like Excel, Google Sheets, Slack, etc., and you can also download the parsed data from the Mailparser app. It is capable of pulling out text from various formats like PDF, DOC, DOCX, XLS, CSV, TXT, XML, and so on. It can integrate with CRMs, productivity tools, file storage services, email platforms, etc. Mailparser can also integrate with email providers like Gmail and Outlook. It highly encrypts the data. It is available on free as well as paid plans.
Conclusion
Emails contain extremely useful data for businesses. But scanning the entire email and then extracting the useful information out of it is not possible to be done manually. Hence email parsing software automates the entire process making them free from human errors and also the data collected is stored in a highly secured cloud-based environment. The data collected is also encrypted by the software itself. The data transferred from emails to your CRM system is 100% accurate. Businesses nowadays rely highly on email parsing.