Monitoring the Business team activity in CRM (Customer Relationship Management) is neither a herculean process nor a cakewalk task. Unless you entail SuiteCRM User Activity Tracker in your CRM software, you wouldn't get what they are doing.

Are you worried about your Data damage in CRM?

Do you want every single piece of information you should know about what the users did?

You trust them but you don't want to take any risk. After all, bundles of the crucial information you garnered for your Business growth. Even if they did something incorrectly you can guide them after knowing what steps they followed.

The answer to all the questions is adapting the latest aphorism plugin for your CRM business called User Activity Tracker. Below information is all about this magnificent extension. Read this blog word for word below-

What is SuiteCRM User Activity Tracker?
Outright Store introduced this plugin which allows you to track the User activity in your CRM system. It means like every piece of information in your hands what they are doing. This eliminates the risk of precious Data damage. It alleviates your problem because your eyeballs are on the CRM for what the other users are doing.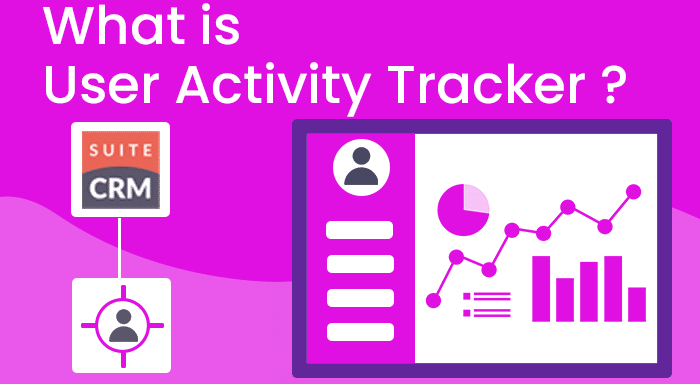 One of our clients has been working in the CRM industry for the last 10 years. He has a team of expertise who works in CRM software to cater to the needs of their customers and help them to give better solutions. Last month he hired a few newbies who are new to this field. As they never used CRM in the past. But the company trained them very well.
Nevertheless, the client doesn't want to take any risks. He wants the company to be aware of if they have access to any document or if they delete any lead by mistake and so on. We introduced SuiteCRM User Activity Tracker. Now the client can monitor everything. Plus he is happy to get a holistic view of entire users who are experienced and even naive.

What more Functionalities the product will provide?
Before getting distracted by all bells and whistles, read out the list below. We explained more features of this unrivaled plugin.
Help you to know the user and the activity
The first awesome functionality of this extension is providing you the entire information of that person who operated your CRM. Including his/her activity in the CRM on a specific day and time. This helps you to know whether the person is working correctly or needs some guidance from your company experts.

Can this add-on help to know the Module too?
Scrutinize every single activity when you have this sublime product in your business. A great plugin enables you to know the module name the user was working on. You can get to know this in the Activity Holder. Additionally, it unpacks the Date/Time of their activity.

Users Device and Operating system information at your fingertips
A User-friendly extension that is suitable for businesses of all sizes. Your business can get to know the devices the users operate to enter into your CRM. Like it will let you know whether they operated from Computer, tablet, or Mobile phone. People always crave to know such essential information. Furthermore, it is advanced enough to let you know the Operating systems and Web browser.

Check the IP Address and User's country
This precise tool offers some out-of-the-box functions. Well, it's not such a daunting task for your company now to know the user IP address of the computer. If you are clueless about the user country, buy this product today to handle this operation smoothly.

Uncover the log-in and Log-out timing
The organizations have tons of employees who daily use the CRM for customer handling and for many other business operations. Now it's hassle-free for your business to know their Morning log-in and Evening log-out time. Benefit? This feature lets you know the user productivity for your organization.

Get the Total Log-in Time of every user here
It's also necessary for the companies to know how many times users logged in to your SuiteCRM software. If no other extension is giving such an exceptional benefit, strive for User Activity Tracker today. The Products aid in informing the total time of the users logged into the system.

What's the use of the Advanced Search and Day Summary report?
The Advanced Search option in this product helps to search the user activity rapidly. For example: you can use the search with the particular IP address. This saves your time too. Moreover, in the Day Summary Report, you can access all the information of user activities swiftly. Rich functionality!
Price of the Product?
To keep everything under your control and to keep malicious activity aside, purchase this extension for just $299.00. The specialty of this add-on is it is compatible with every SuiteCRM software version. And it is for unlimited users. We can even provide you with a Free Product Tour. This is basically to understand the plugin Installation and Configuration.

Closing words: Not having this product in your company means you are creating barriers between you and your users. In lieu of waiting for any damage and applying guesswork, endeavor for this splendid plugin called SuiteCRM User Activity Tracker. Such kinds of SuiteCRM Plugins are always ready to assist you. Leverage it first to stay away from any suspicious activity.